So it's been about a year since you received a pair of custom orthotics.
I truly hope they worked wonders for your health and kept you living an active and pain free life.
For most people, 12-18 months is pretty close to the end of the useful lifespan of a pair of custom orthotics.
Just like a good pair of running shoes, the soft parts (made from rubber, cork, special high density foam) will eventually compress.
You should probably give them a look at this point to check on their condition.
If they're starting to develop any cracks or the top coat has worn through it's probably time to consider getting a replacement, as an overused pair won't give you the proper alignment and support they were designed to provide.
If you could use a replacement pair, we'll give you the same special deal of just $250 for the full orthopedic assessment, custom molding, and follow up fit check (regular price is $450) that we only offer our patients. Just book with one of our top reviewed Oakville Chiropractors and we'll take care of the rest.
As you've experienced already – the increased support, stability, and biomechanical corrections that orthotics provide can work wonders for a range of issues including:
General foot pain or fatigue (though this may be common, it shouldn't be ignored – your body is sending you a message that something is wrong!)
Arthritis (orthotics can bring relief to arthritis pain in your feet, knees, ankles, or hips)
Bunions (bony and often painful bump that forms at the base of your big toe)
Painful arches (fatigue in this critical part of your foot is often solved with more support)
Plantar fasciitis (one of the most common causes of heel pain, especially in the morning)
Metatarsalgia (pain and inflammation at the ball of your foot)
Patellofemoral pain (knee pain common among runners and active people)
Shin splints (another common running and sports injury)
Achilles tendonitis (pain in the achilles tendon, which connects your calf and heel bone)
If you found relief from any of these issues with your orthotics, don't give these problems any room to creep back in.
Set up your appointment today with one of our Oakville Chiropractors for a fresh pair – just email us with a time you'd like to come in, and we'll take care of the rest.
Keep moving,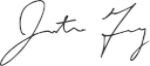 Dr. Justin Guy
P.S. If you know someone that could benefit from custom orthotics, please let know about our offer of $200 OFF. We'd love to extend this promotion to them!
Follow this link for more information on our Custom Orthotics